Are you looking for the best Alexandria VA Family Photographer who can handle a family with 7 children like a pro?! Our wonderful Northern Virginia studio is the perfect backdrop for a traditional, yet beautiful family portrait session. When this sweet mama reached out to me this Fall, she expressed how important it was to her for us to document her children at their current ages. They grow too fast – if you're a parent, I'm sure you're reading this thinking "if that isn't the truth…". Our goal for their family session was to get a great full family photo and individual photos of each child so we could create a custom wall gallery for their home!
I think we understood the assignment… What do you think? 😉 I hope you enjoy this preview of their Northern Virginia studio family session! These images are just the beginning! We got photos of the kids together, mom & dad alone, mommy & me's, daddy & me's, and so much more! We'll share the rest of their session with you soon. But for now, do you want to see their gorgeous wall gallery designs that we ordered?!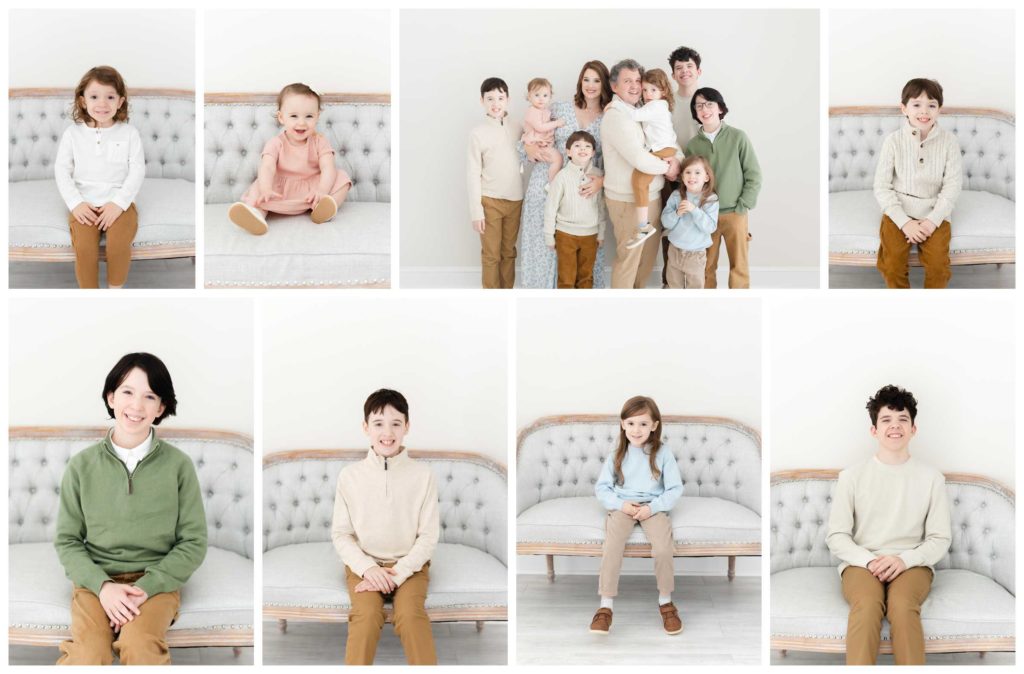 ALEXANDRIA VA FAMILY PHOTOGRAPHER
Without further adieu, here is the gallery mockup I custom designed for their stairwell. Mama wanted a new portrait of each of her babies ascending up the stairs in their home:
We also custom designed a gallery wall for their living room to go between two beautiful & large windows:
Would you like more information for a family portrait session in the Washington DC and Northern Virginia areas? We also offer baby milestones, maternity, and newborn sessions! Please click the contact button below so we can chat more about your session!
Alexandria VA Family Photographer
Jessica Green Photography specializes in stress-free and luxury newborn, family, and baby photos. She serves the greater Northern Virginia and Washington DC areas. These include but aren't limited to McLean, Vienna, Falls Church, Washington DC, Georgetown, Aldie, Loudoun County, Alexandria. She provides timeless, simple, and organic photos on location or in her studio in Warrenton, VA.
We're delighted to have you here to tell you more about our full service portrait experience! From in-house professional hair & makeup to our luxurious wardrobe for mom & baby to custom heirloom artwork, we do it all so you can have it all without lifting a finger! We want your portrait experience with us to be fun, not stressful. That's why we've thought of everything for you. CLICK HERE to schedule a consultation to commission us for your custom portrait experience. On average, JGP clients plan to invest $2450+ on their portraits. We are booking sessions into mid-2023 already, so if you'd like to ensure availability, please reach out and reserve your date!